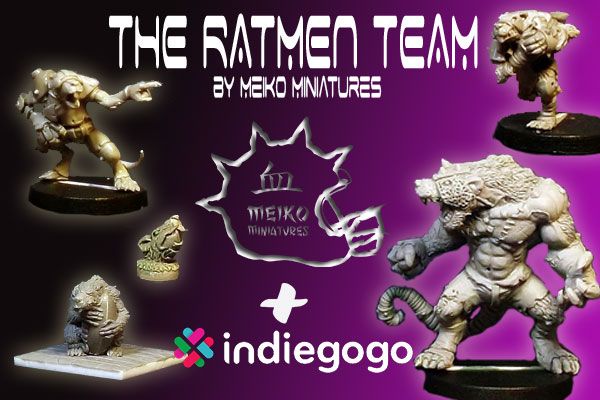 Hello Fantasy Football / Blood Bowl fan,
This is the new Meiko Miniatures project: The Ultimate Ratmen Team!!!!
The Indiegogo Campaign of this amazing Ratmen Team is already active:
Not so long ago, Meiko Miniatures released the Lizardmen Team and the Chaos Dwarf Team, and we have been showing the initial greens of Meiko's next team, the Ratmen. All these greens received good reviews from our customers, so Meiko Miniatures has decided to release the whole Ratmen Team as soon as possible.
The sculpting of most of these miniatures has been already made. But Meiko Miniatures needs your help to speed up the casting process. That way, Meiko Miniatures will be able to release the Ratmen Team much sooner than when was initially planned. Using Indiegogo as a platform to rise funds helps a lot since Meiko can finance new miniatures and other interesting items, obtain feedback from our customers and it gives confidence to keep working on. In exchange you will get some cool rewards.
All the miniatures will be casted in metal, including the RatmenTurn Counter. The master moulds will be made by Miniaturas Alemany, the mouldmaker of other successful Fantasy Football Indiegogo campaigns like the Chaos Team and the two Halfling Teams of Willy Miniatures.
The scultptor of this Ratmen Team is Pedro Ramos (a.k.a. Poncho).
Pedro Ramos is one of Meiko Miniatures flagship sculptors,
skilled sculptor of many other Meiko miniatures like the Lizardmen Team, Aigor the Insane, the Halfling Chef or the Dwarf Deathroller just to mention some of them.
Help us to make the Ultimate Ratmen Team!!!
May Nuffle bless your dice!